MDSE Completes Paint Branch Trail Biorentention System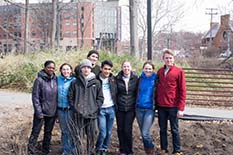 The University of Maryland students, faculty, and staff are committed to resolving non-point pollution by reducing and managing rainwater runoff. In partnership with University of Maryland Facilities Management, the Maryland Sustainability Engineering (MDSE) student organization has designed a series of bioretention facilities on campus to set examples of stormwater management. The Paint Branch Trail bioretention is the third bioretention implemented as a result of this partnership.
The Paint Branch Trail bioretention was fully implemented on Saturday, March 28, 2015 as part of the Good Neighbor Day initiative. This implementation is to complete the installation of the bioretention initiated in the Fall 2014 semester to substantiate four semesters of diligent planning and design. The project broke ground on November 22, 2014 when the team excavated and installed the engineered layers of filtration media. This semester, Maryland Sustainability Engineering (MDSE) facilitated the planting of native plant species in the bioretention and educating the volunteers about the workings of a bioretention system.
Senior Civil/Environmental Engineering student, Anthony Aquino led the implementation along with the team consisting of Chris Little (Civil Engineering), Luke Bittner (Materials Engineering), Oliver Baron (Civil Engineering), Neil Blanc (Civil Engineering), Kortney Wright (Civil Engineering), Wing-Mei Ko (Civil Engineering), and Michelle Solomon (Civil Engineering). The group was joined by stormwater management coordinator and mentor, Michael Carmichael and volunteer coordinator Carin Celubuski to help direct and educate volunteers about the importance of installing sustainable stormwater management facilities.
Along with 340 volunteers, MDSE participated in beautification projects and community outreach and education activities. MDSE collaborated with the Good Neighbor Committee to feature the Paint Branch Trail bioretention on Lot XX1 as a service project for the North Gate Park. The team led the volunteers in planting and explaining the role of each plant species that will be placed in the bioretention. The established bioretention will store and filter stormwater runoff from the nearby buildings and Lot XX1 parking lot. The system will act as a cleaning buffer before it reaches the Paint Branch River.
Moving forward, MDSE will continue to identify areas where storm water management is most needed.
For more information, visit our website: http://mdse.umd.edu/index.php
To view more photos, visit our Flickr: https://flic.kr/s/aHsk9fQmmv
April 3, 2015
Prev