EWB Begins New Partnership with School in Ghana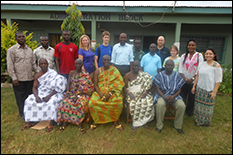 In August of 2014, three students and one faculty member from the University of Maryland, College Park chapter of Engineers Without Borders (EWB-UMCP) traveled on an assessment trip to Suma Ahenkro, Ghana. The trip was the organization's first in its new partnership with Sumaman Senior High School and NGO Changing Lives Together, Inc. The first project in the recently acquired Suma Ahenkro program entails providing a consistent, affordable source of electricity to the town's only secondary school.
On the assessment trip, which took place from the August fourth to August twelth, EWB-UMCP sought to gather information needed for a potential solution, as well as to cultivate relationships with in-country contacts. The team sourced materials in the national capital of Accra as well as the regional capital of Sunyani. Information was gathered on items like electrical supplies, solar panels, charge controllers, inverters, and generators. While on-site, the team dimensioned two school blocks that were the most suitable for solar panels; examined the structural integrity of the roof; performed an electrical load analysis of each building on campus; and gathered GPS coordinates of structures in the compound. Throughout the trip, the team met with various in-country contacts, including the headmaster of the school, the chiefs of the town, the head of the PTA, the regional minister of education, and the director of administration and finance for the national ministry of education. EWB-UMCP also formed a strong bond with the Changing Lives Together team.
The students on the assessment team consisted of project leader Nick Lutschaunig (Government and Politics), lead health and safety officer Abby Iacangelo (Bioengineering), and education lead Sarah Niezelski (Mechanical Engineering and Economics). The team was fortunate to have Bryan Quinn, Director of Technical Operations for the Department of Electrical & Computer Engineering, as a traveling faculty mentor.
Beginning the fall semester of 2014, the EWB-UMCP Ghana team aims to begin the design process for the project. The team will begin by examining several options of powering the school. The team hopes to implement its solution in the summer of 2015.
September 6, 2014
Prev
Next