MDSE Team Tackles Secondary School Construction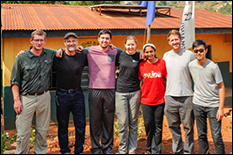 The Maryland Sustainability Engineering (MDSE) Marvin Weissberg Sierra Leone Project traveled on an assessment trip in January 2014 to the Abigail D. Butscher School, MDSE's partnering community on the outskirts of Freetown, Sierra Leone. Kathryn Connolly, a senior chemical engineering student, led the team, which was comprised of Civil Engineering Professor, Dr. David Lovell, professional engineers, John Sankey and Ed Elder, and engineering students, Henry Ko (bioengineering), Sam Laiacona (bioengineering), and Sampada Koshatwar (bioengineering), on the week-long trip. The goal of the trip was to investigate and collect data for a project in which the team will design and construct secondary and tertiary buildings on the Abigail D. Butscher property to provide the school with additional classroom space.
Currently, all 266 students who attend the Abigail D. Butscher Primary School are limited to the four classroom spaces in the existing school building. As the community around the school in Calaba Town continues to grow and thrive, overcrowding in the classrooms threatens the quality of the students' education. Seven classes are held in four classrooms and the administration is forced to turn away over 50 students each year. In addition, there is no infrastructure set up around the school to provide the school children and the surrounding community with clean drinking water. While there are multiple natural springs within easy walking distance from the school, the water is contaminated and may cause the children to get sick which then interferes with their education. The availability of clean water for the school would help mitigate water-borne illnesses and allow the students to stay hydrated during class.
Over the past year, the MDSE team has taken steps to address both of these problems for the community. The MDSE Marvin Weissberg Project team is currently focusing on designing the additional school buildings for the school property based on the information the assessment team collected in January. Another part of the project team is finalizing the design of a rainwater catchment and UV disinfection system to provide the school with clean drinking water. During the summer 2014, the Sierra Leone team will travel on multiple trips to implement the water project and phases of the school building project. The team aims to have the buildings completed by the end of January 2015.
February 28, 2014
Prev
Next